The sales rep captures the card information on the app.  This information is tokenized and passed to the webmanager portal with a submitted order.  The card is not charged at this time. It is only checked for validity and puts a hold on the card for the amount of the order.  When the order is ready to be shipped, you can charge the customers card from webmanager by:
Browsing to the View Orders section in webmanager
Click on the OrderID of the order you wish to collect payment on
  At the bottom of the order, you will have two options as seen in the screenshot below:

Charge Card Ending in xxxx
Add a new card
Once a card is selected click "Charge Card Ending in xxxx" where "xxxx" is the last four digits of the card you would like to charge.  You could also add a new card by clicking on "Add a New Card" if the card you wish to charge is not listed.
Next, from the Charge Credit Card for Order screen as seen below: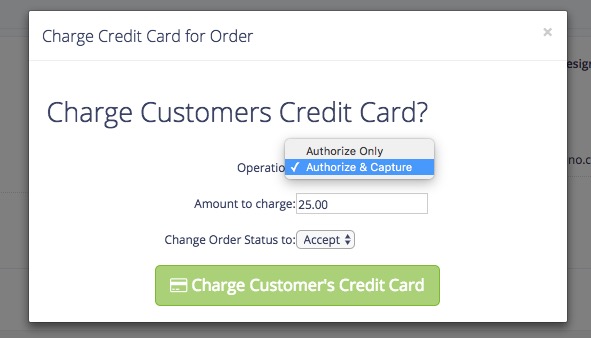 Choose "Authorize and Capture"
Verify the Amount to charge
Update Order Status if necessary
Click "Charge Customer's Credit Card" to process the payment
Note: You can charge an amount less than the total dollar amount of the order (as a deposit), then go back later and charge the remainder when the order is ready to ship.  
You have now successfully charged a customer's credit card through RepZio webmanager.
Note:  You can also charge credit cards in your credit card processor's web terminal.