Territory management can help you allocate resources (people) and ensure that all customers in your brand portfolio are covered. Some additional benefits of utilizing territory management may include: improved sales rep efficiency 🏃, sales growth 💰, and a deeper relationship with customers.
This article will explain the steps for setting up sales rep territories.
Steps to Setup Territory Management
Follow the steps below to setup territory management within WebManager.
Badge Scanning Update: To utilize our badge scanning functionality for markets, territory management must be setup for each sales rep. Review the steps below to properly get set for badge scanning.
Step 1
Log into your WebManager admin
Step 2
Click "View/Edit Sales Reps"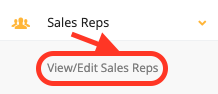 Step 3
Click on a rep name to edit a rep's details page
Step 4
In the upper right-hand corner, click "New"

In the Add Territory pop-up, select a state, zip code or zip code range for the rep and then click "Submit"
Need to delete a territory? Click the delete icon

and confirm the deletion of the territory.

**Please note** At this time, using territory management does not assign customers to reps. To assign customers to a sales rep, you will need to select the rep number within WebManager.
Learn more about How To: Assign Customers to a Sales Rep here.