Exporting your buyer badges is a great way to analyze all buyer badges scanned during or after markets. The exporting of buyer badges can only be performed by your WebManager.
Once logged into WebManager, using the left navigation bar, goto Showroom Activity or click here: https://manage.repzio.com/showroomactivity 
Notice the file up arrow icon on the right 
Click this icon to start the export and download of all badges scanned. 
A CSV file will download, review this CSV file by opening it in your favorite text or spreadsheet editor like Microsoft Excel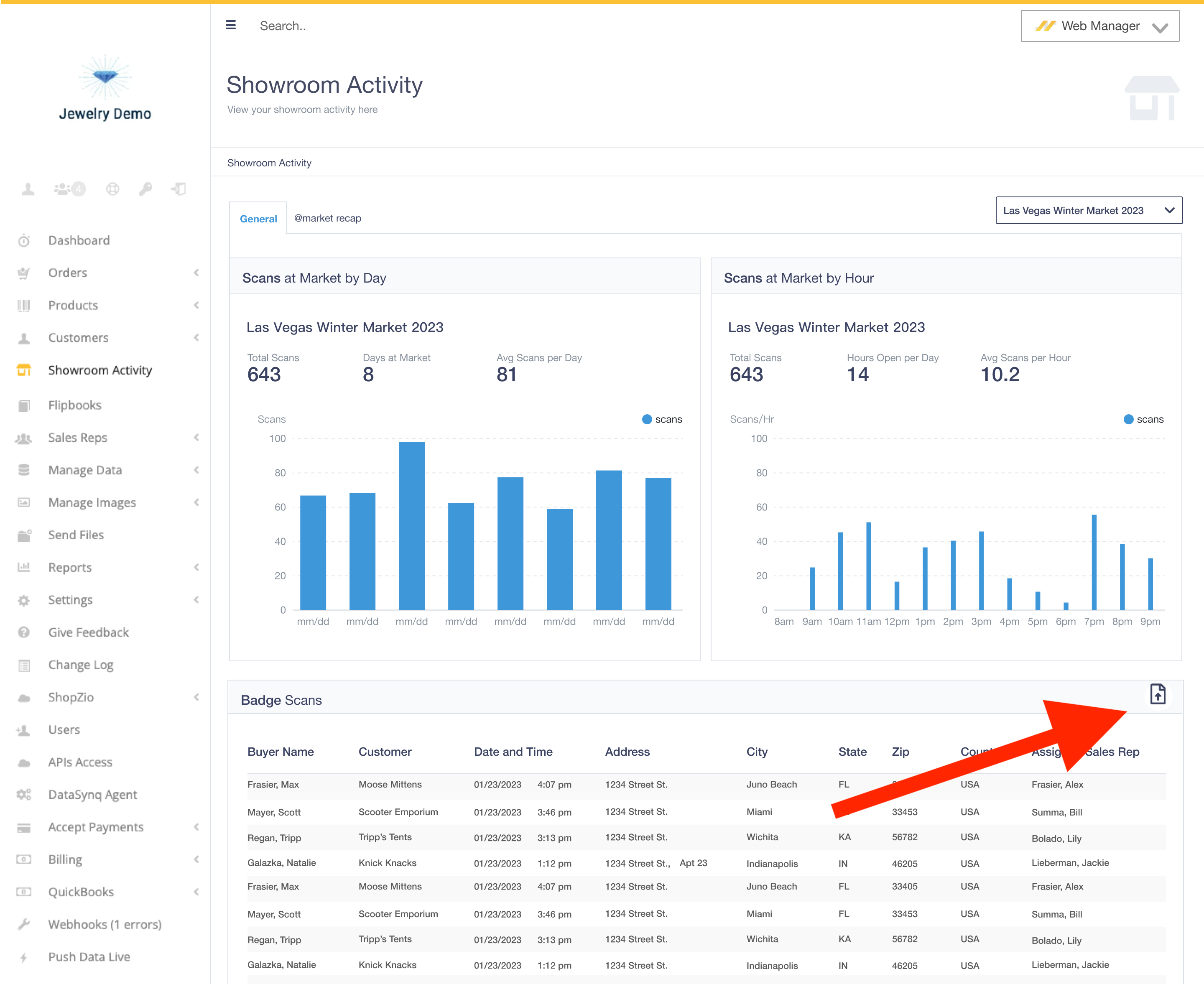 Frequently Asked Questions
Q: I do not see Showroom Activity in WebManager? 
Ans: A sales rep will need to first scan a buyer badge for Showroom Activity to appear in WebManager.

Q: How do I review a CSV file?
Ans: See how to open a CSV file in Microsoft Excel here . Alternatively, most text editors like Notepad can open a CSV file. 

Q: Are the headers displayed in Showroom Activity the same as the export?
Ans: There are more fields available in the export then what are displayed in Showroom Activity. The data displayed in Showroom Activity and the export file contain the original information the buyer registered with.   


Q: What do the headers in the export file mean?
Ans: The data contained in the export is the original information a buyer adds when registering for market. 
| | |
| --- | --- |
| EventCode | The event code designated by the respective market. This cannot be customized. |
| EventName | The event name designated by the respective market. This cannot be customized. |
| Timestamp | The exact time the buyer's badge was scanned. |
| TimeZone | The timezone of the market. |
| CustomerName | The Customer Name of the buyer scanned |
| FirstName | The First Name of the buyer scanned. |
| LastName | The Last Name of the buyer scanned. |
| EmailAddress1 | The email of the buyer scanned. |
| EmailAddress2 | An additional email of the buyer scanned.  |
| BusinessPhone | The business phone number of the buyer scanned. |
| MobilePhone | The mobile phone number of the buyer scanned. |
| StreetAddress1 | The street address 1 of the buyer scanned. |
| StreetAddress2 | The street address 2 of the buyer scanned. |
| StreetAddress3 | The street address 3 of the buyer scanned. |
| City | The city of the buyer scanned. |
| StateProvince | The state or province of the buyer scanned. |
| ZipPostalCode | The postal code of the buyer scanned. |
| Country | The country of the buyer scanned. |
| AssignedSalesReps | The first and last name of the sales rep that was assigned or matched to the buyer that was scanned.  |