A "flipbook" is a digital version of a catalog, or catalogue, that can be accessed from within the RepZio app by your sales rep, or within the ShopZio marketplace. They can be browsed page-by-page just like a printed product catalog but with one—very important—bonus feature - buyers have the ability to browse and then add items to their cart without having to toggle back and forth between a catalog and webpage!
Note: Flipbooks are not available on the @Market Online marketplace.
Why are flipbooks a great asset to feature on your site? A flipbook is a marketing campaign designed to showcase a targeted group of products to consumers in a branded environment offering a more personalized experience. It showcases a brand's lifestyle by reinforcing brand recognition, brand identity and product awareness by engaging consumers in an accessible or aspirational lifestyle of which they can feel a part of, a sense of belonging to, and—possibly the most important for a brand's success—one to which a consumer will remain loyal.
Learn more about how to set up a flipbook below.
Creating a Flipbook
Flipbooks can be created using a range of services such as Microsoft Word or Adobe InDesign, etc. The final version of your flipbook must meet the following criteria to be uploaded into the Dropbox service.
Page orientation: portrait
Page size: 8.5x11"
Maximum file size: 500MB
Final format: portable document format, also known as "PDF"
Total flipbook pages not to exceed allowed page limit. All sellers are automatically given 100 pages included in their plan. 101+ pages incur a fee. Please see Flipbook FAQs below for more information.
If your flipbook does not meet the above requirements, it may not process properly and will delay publication.


Enabling a Flipbook
Flipbooks must be enabled on the backend to show on the frontend for your users. Follow the steps below to enable flipbooks. If you are new to flipbooks and this is your first upload, our Support Team will need to do some setup work within Dropbox and we will typically enable the RepZio/ShopZio setting below as part of our process. If the setting is not enabled, you may do so by following the path(s) below.


Steps to Enable Flipbooks
RepZio/ShopZio
Path: WebManager > Settings > Repzio App Settings > User Interface > Enable Flipbooks
B2B Direct*

Flipbooks must also be enabled within B2B Direct Admin in addition to the WebManager steps above. Path: B2B Direct Admin > Settings > Site Configuration > Menu Configuration > Include Flipbooks in Menu

*For B2B Direct, you can also update the menu title that will show for your flipbooks. For example, you may want to say "Shop Catalogs" instead of Flipbooks, which will show by default. To update, go to B2B Direct Admin > Settings > Site Configuration > Menu Settings > Flipbooks Menu Title.
Uploading Flipbook File(s)
Once your flipbook has been created and enabled via WebManager and/or B2B Direct Admin, you'll need to email our Support Team for next steps to upload your flipbook file(s). You can either email the flipbook (a link or the actual PDF document) or we can request files via Dropbox directly.
Already have access to your Dropbox folder? Awesome. You can upload your PDF file via the shared Dropbox "flipbooks" sub-folder.
Note: Flipbooks typically take a minimum of 2 hours to process from the time you upload but may take longer based on the number of pages in your PDF file. Please provide the Support Team with an appropriate email to receive email notifications for flipbooks as once the flipbook is processed on the backend, an email will be sent informing you that it is ready to be tagged and/or published.
Note: We recommend that you compress your PDF file prior to uploading.
What's next? Once a flipbook file is uploaded into the Dropbox service and begins processing, it goes through a series or stages.
Stage One
A new flipbook file should begin to show shortly after uploading in the Manage Flipbooks screen, as shown below, within WebManager > Flipbooks. The link for a new file will show here, but will not be quite ready for any action to be taken. You may also view or make changes to pre-existing flipbooks here as well.

If you select on a link and it shows a grey box, as shown below, it may look like something went wrong or nothing is happening, but never fear, this is a part of the process. The file is still in the beginning stages of processing.

Stage Two
In stage two, PDF pages begin to convert to individual images for each page. You'll start to see what we call "broken images" with a page number associated. Depending on the size of your flipbook, this stage may take the longest amount of time. Your flipbook is still not quite ready for any action to be taken just yet.

*Please note - 100 total pages are automatically included in your plan with RepZio. 101+ pages incur an additional monthly fee. If a flipbook is uploaded that would take you over 100 pages, the flipbook processing will typically stall here in stage two. Please reach out to Support or your CSM to review. In order for the processing to resume, a proposal for pricing will need to be sent and approved. If for any reason, you see your flipbook file remain in this stage for more than 2 hours, please contact the Support Team and we will look into this for you.
Stage Three
The final stage of processing is where the magic happens and will show each page as an individual image, as shown below. Now the fun begins! 🎉

In the next section, Managing Flipbooks, we'll review all things related to managing flipbooks: how to tag items, re-arrange or delete pages, rename a flipbook, and of course publish your flipbook(s).
Managing Flipbooks
Along with uploading flipbooks, comes managing flipbooks. Keep going to learn more.
Accessing Your Flipbook
To access your flipbook file(s), follow the below steps.
Log in to your account in WebManager
In the toolbar on the the left-hand side of the page, click "Flipbooks"
Under the "Manage Flipbooks" panel, click on the name of the Flipbook you need to make any changes.

Adding a Page to Your Flipbook
Forgot a page in your uploaded file? Follow the below steps to add a page. When adding pages to an already existing flipbook file, pages must be .jpg format.
In the "Add a Page" panel, located under the "Flipbook Tools" panel, click the "Choose File" button
Locate and select the .jpg image of the page you are adding
Click the "Open" button
Tag items accordingly on your new page (if applicable)
Click "Publish Flipbook" for the changes to go live
Deleting a Page from your Flipbook
Content no longer relevant or incorrect? Follow the steps below to delete an individual page from your flipbook file.
Click on the flipbook link
Select the page you would like to delete
Click on red "x" to the side of the page number selected
Verify delete by clicking on "Yes, Delete this Page" (this is a button although it does not look like it!)

Refresh the page once deleted for the update to show correctly
Re-publish your flipbook for changes to show to customers
Rearranging the Order of Flipbook Pages
Need to update the flow of your flipbook? Rearrange pages is a simple drag and drop. Follow the steps below to re-arrange your flipbook file.
Open the flipbook you wish to re-arrange pages
Under "Flipbook Tools" on the right, click the green "Arrange Flipbook Pages" button
Drag and drop the available pages into the desired order
Click the "Save Changes" button once you're finished
Make sure to re-publish the flipbook file for changes to show to customers
Renaming a Flipbook
Uploaded a flipbook but need to change the name? Follow the steps below to update.
Under the "Manage Flipbooks" panel, click the Rename Flipbook link that corresponds to the particular flipbook you wish to rename. Enter a new name for your flipbook and click "save changes".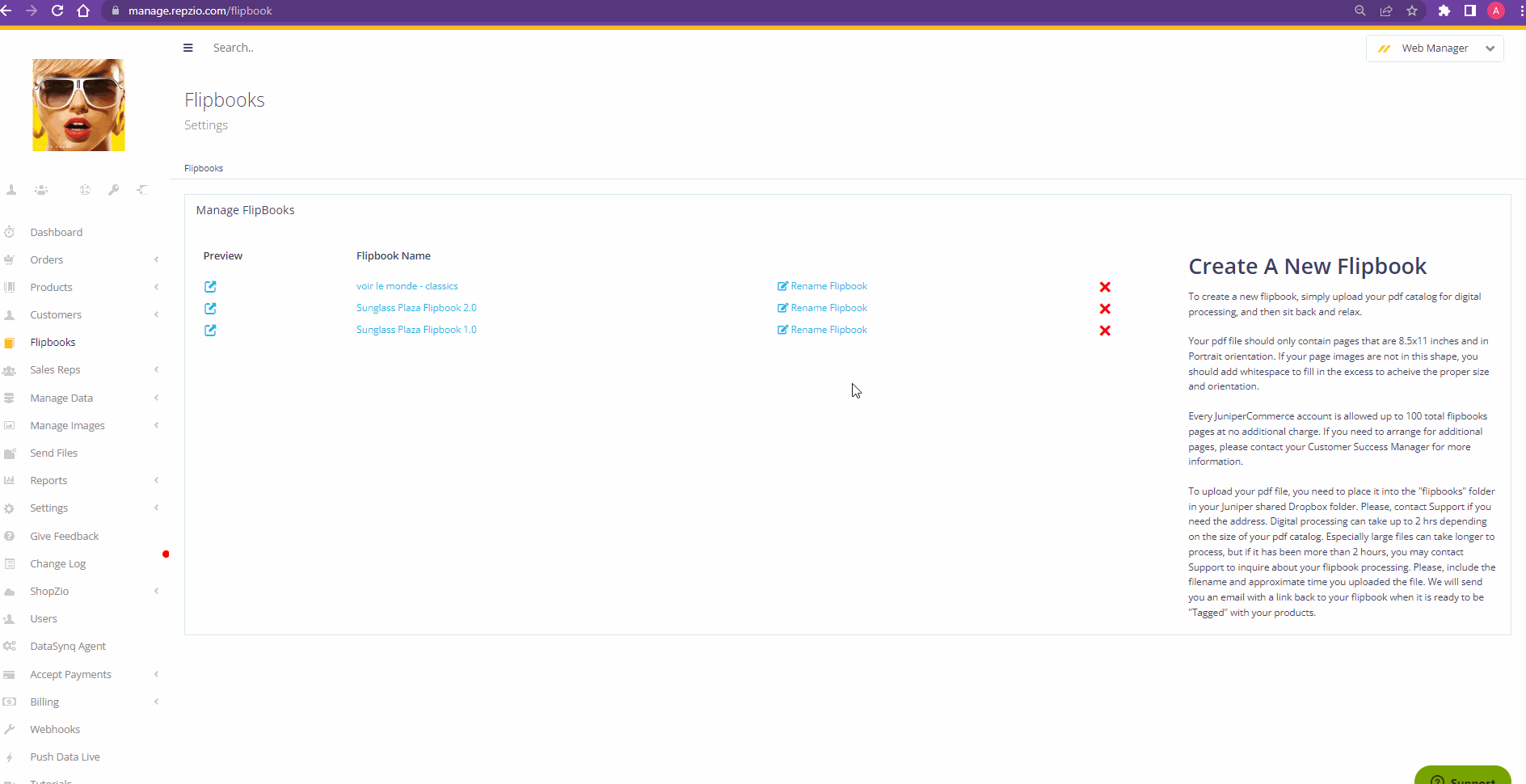 Tagging Products within a Flipbook
Tagging products allow customers to shop directly in a flipbook without having to toggle back and forth to add items to their shopping carts.
Adding a tag creates a box on the backend and a small label, or hangtag, that a customer can click on to pull up item details on the frontend. The box created by tagging items is only visible to you on the backend. The hangtag that customers can click on will shift depending upon the size of the box created on the backend. Customers on the frontend will only see the hangtag. There are a couple of techniques you can use in creating tags. We recommend testing out the methods below to see which best suits your needs.
Note: When customers are reviewing flipbooks on the iPad iOS app, tags will shift when the iPad is turned to landscape mode and again when turned back to portrait mode. Flipbooks were designed for the iPad to be in portrait mode. However, should customers prefer landscape mode when viewing pages, you'll want to take this into consideration when creating the tags on the backend.
Don't like the way it looks on the frontend? No worries, you can delete it. We'll show you how shortly.
Techniques to Adding Tags
Simple click. A simple click near the item creates a tiny box on the backend. If you have numerous items on a page, a simple click may be the best option.
Backend View
Frontend View
RepZio iOS App

B2B Direct

Click and Drag. A click and drag around an item or item details is another option for tagging. A larger box on the backend does not make the tag on the frontend appear larger. A larger box on the backend will only shift where the tag will sit for customers on the frontend.
Backend View

Frontend View
RepZio iOS App

B2B Direct

Notice the slight shift in where the hangtag is positioned when using the second method. In addition to this shift, if customers turn their iPad device landscape, the hangtags may shift even more.
Please note that the ItemID must be entered exactly how it is setup in your data base. For example: if the ItemID of your product is ABC123, then you must tag the item with that exact ItemID. Using "abc123" will cause an error when users try to click on the tagged item in the flipbook.
Note: To remove a tag, double-click on the square/rectangle you previously created in Webmanager, then click the "OK" button to confirm the removal.
Pushing Changes to the iPad
Remember that anytime you make changes within a flipbook, you must re-publish the flipbook. Some changes also require a push data live. You'll notice the "push data live" button illuminated if it is needed, but if you aren't sure, push data live!
Flipbook FAQs
Is there an additional fee for the flipbook service? All sellers are automatically allowed 100 total pages included with your plan. 101+ pages (max 10,000 pages) incur an additional $200 monthly fee. Please reach out to Support or your CSM to review. A proposal for pricing will need to be sent and approved prior to processing.
Why does the application crash anytime a flipbook is selected? There are a few possible reasons why the RepZio application may "crash" or shutdown when a flipbook is selected.
Ensure that the flipbook has been published. Each flipbook must be published for it to properly function.
The RepZio application may crash if a rep is not a strong, stable WiFi or internet signal or there is a interruption of service/connectivity.

If a flipbook has been published and a rep is on a strong WiFi or internet signal, have the rep complete a Force Restart on the iPad device. Learn more about how to Force restart iPad device here. A "force restart" is different than simply shutting down an iOS device. Refer to the instructions above to follow the force restart process properly.

For customers on a B2B Direct site, while the website will not crash when a flipbook is not yet published, it will open a blank page and will remain idle. Once published, the customer will need to refresh the page or close and re-open to browse a flipbook.
Next, we will move onto the next section: Sales Reps