Periodically, a need to change one's email address may arise due to circumstances beyond our control or simply because we no longer identify with the inner 16-year old that haphazardly created an email address for our doting love of video games or tacos.
With that said, updating a sales rep's email address within the system is possible but it requires a couple of steps on behalf of the brand admin to make the change.
There are two possible options on how to complete:
Option 1: If the new email address does NOT already exist in our system we can convert the old email to the new address for you. This will preserve sales history associated with the old account. You will need to email support@repzio.com to complete. Please note: some sales reps work for multiple brands and even if their email does not show within your admin, it might still be in our system. If it does exist at all in our system, the brand admin will need to complete by way of option #2 below.
Option 2: If the rep email address DOES ALREADY EXIST within our system, the brand admin will need to deactivate the old rep account and create a new rep account. Then, assigning the same rep # will allow history to transfer over.
STEPS TO COMPLETE
Take a screenshot of the Sales Rep Details page (this will help you when re-creating the new rep account with all of the same information)
Delete the old rep account by clicking the trash can icon
Click button and enter any appropriate information for the rep account

The following fields are required fields:

First Name
Last Name
Phone #
Rep #
License Type

A standard license is required to submit orders via the RepZio iOS iPad app. A standard license also allows the rep to use the website version of RepZio at app.repzio.com.
A basic license entitles a rep to view products or submitted/unsubmitted orders via the website version at app.repzio.com ONLY. Please note: A rep must also have assigned customers to be able to browse products.

Click
Click and then to complete the process.
Visual Learner? Have a go by watching the video below.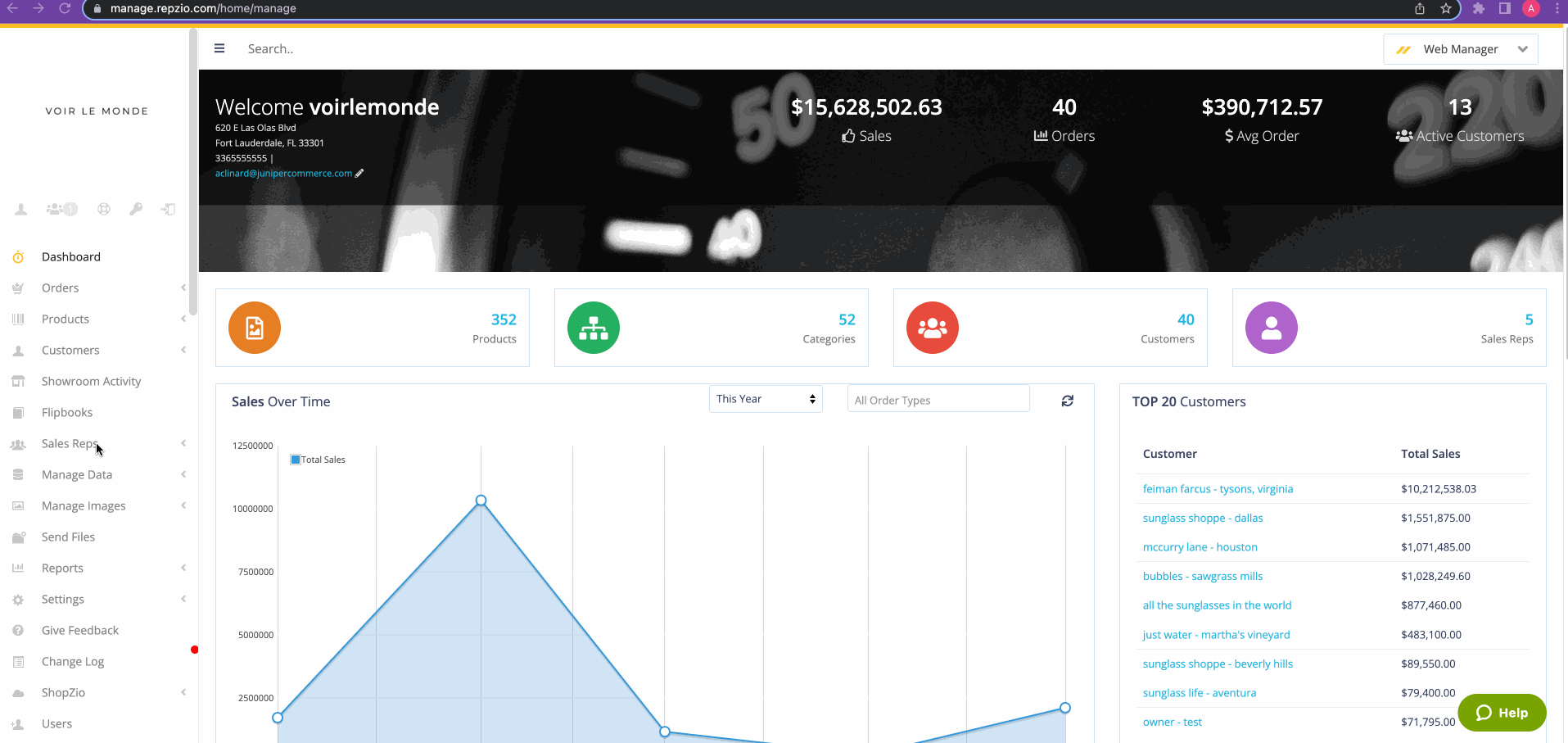 Important Note: The rep MUST know you are doing this as it will impact any other lines being visible to them and it's not a reversible change. Unsubmitted orders will most likely be lost as they are local to the iPad only, so if there are unsubmitted orders that are important, the rep will want to email copies to his/her inbox or submit prior. You can also email from Real-Time Orders within WebManager as well.

The rep will need to completely log out of the app and then back in once the change is made and it may take a few moments for info to populate. For order history, the rep will need to go into each customer's profile and click the green "Check for Order History" button to populate submitted orders. Just to note, only submitted orders by this rep will be visible unless Admin mode has been turned on.